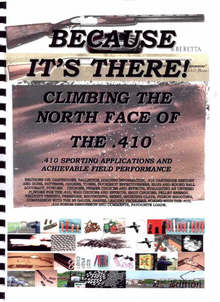 I have been an enthusiastic fan of the .410 bore shotgun for more than 50 years. During that time, I have made it a point to read everything written about them, at least everything I could find. Throughout the past fifty years, "everything written" about the .410 has amounted to precious little, and almost all of it was negative and often came from shotgun authorities with little .410 experience.
A couple of years ago an English fan of .410s started a hobby website, to try to improve this situation. Since then, Phil has been very successful in gathering and posting real and useful information on this smallest common bore. With diligence and astuteness, he has even gotten permission to post a fair number of copyrighted articles from Shotgun Sports Magazine, Gun Digest, and The American Rifleman, on various aspects of the .410. The website has become an outstanding place for .410 fans to find and share useful information.
Now, through information gathered from Phil's website, I am delighted to report that not one, but two, count 'em, two new books devoted strictly to the .410 bore have appeared within the past year, and both are by experienced .410 enthusiasts. In order of appearance, they are Ronald S. Gabriel's "American and British .410 Shotguns," (Krause Publications) and Tim Woodhouse' whimsically named "Because It's There! Climbing the North Face of the .410" (Tim Woodhouse, self-published).
The two books take radically different approaches to the .410, but I have found new and useful information in each. Mr. Gabriel looks back over 60 years experience as a shooter and collector. He has very assiduously collected and collated all the older printed matter with sources and footnotes. In addition, he has gone to numerous original sources including the London and Birmingham Proof Houses seeking early documentation of the .410's origins and he shows them clearly to be English and not American as most other commentators have suggested.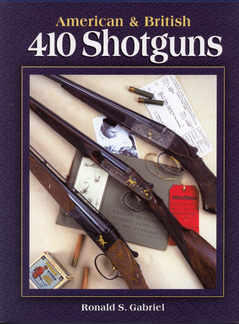 Essentially Mr. Gabriel has created a single volume history of the .410 from its earliest beginnings through the first three-quarters of the 20th. Century. I have no doubt that this book will be cited authoritatively for years to come. However, what he does that most impresses this enthusiast is to provide gorgeous photographs of a large number of outstanding and some not so outstanding examples of the best .410s ever made in the US and in the British Isles.
Both as a history and as a visual treat, Gabriel's "American & British 410 Shotguns" deserves to be on the same shelf with R. L. Wilson's wonderful histories of Colt, Beretta, Winchester, Peacemakers, et al. and Michael MacIntosh's "Best Guns." And that is where I will keep it. "American & British 410 Shotguns" is available from numerous sources including Krause, Amazon.com, and many book stores.
Mr. Woodhouse's book looks in the opposite direction, forward into the future. Because It's There! Climbing the North Face of the .410 (hereafter "Because, etc.") may be whimsically named, but its subtitle, ".410 Sporting Applications and Achievable Field Performance" tells what the book is all about. In addition to his other jobs, Tim Woodhouse is a ballistics consultant for a small British firm, Spitfire, which produces specialty shotgun shells not readily available in the market place. Spitfire's runs are tiny, often as small as 10,000 rounds and are aimed at a niche market. The variety of 12 and 20 bore shells in the US is such that Spitfire's larger bore shells will not cause much of a flutter among US shooters. In contrast, its small bore loads for the 28 gauge and .410 would probably get a considerable amount of attention if they were available here.
Since this book is about the .410, I merely note in passing that Spitfire's excellent 28 gauge loads deliver shot charges of approximately seven-eighths ounce and approximately one ounce at excellent velocities and modest pressures. That is quite an accomplishment and Mr. Woodhouse uses the same approach to .410s. He presently is in testing stage of a three inch .410 shell loaded with three-quarters of an ounce of shot. That was the standard US three inch load when paper shells and card and fiber wads were standard, but the US load dropped to 11/16 of an ounce of shot when plastic shells and wads came into use.
"Because" has neither the slick production nor the visual impact of "American and British 410 Shotguns." Rather it looks more like the working papers of a ballistics consultant and includes technical and reloading data for a number of components not available to US shooters. The author also examines ball, slug, and buckshot loads for the .410 and publishes his experiments with lubricants on the shot and wads as a means of reducing chamber pressures. In addition, he has encapsulated much history and includes many interesting black and white photographs. I did note that in places, the reproduction was not as good as the material, but I imagine the second annual "Because" will correct that; you see, the author intends his book to become an annual forum for .410 enthusiasts and he solicits outside input.*
I would note that "Because, etc." seems a bit overpriced at 50 dollars, but Mr. Woodhouse blames the currently strong pound vs. the currently weak dollar. Ordering instructions may be found on the www.4-10.co.uk website and perhaps by the time you read this, the price will have come down.
* After writing the above, I discovered two things have changed. My copy of "Because" was an early pre-production copy and the production version is much improved. The author also now has a US distributor which will make getting a copy inside the US much easier.
---
Reprinted curtesy of Shotgun Sports Magazine, P.O. Box 6810, Auburn, CA 95604. www.shotgunsportsmagazine.com